Owned By Ted Harmon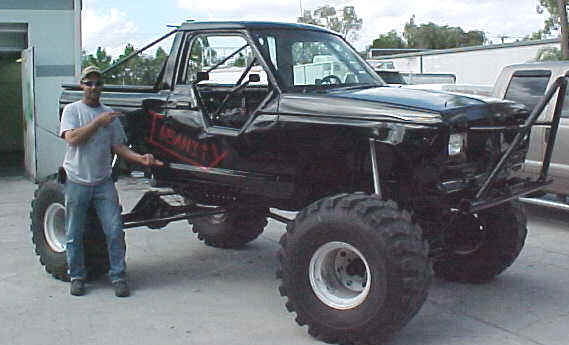 Whenever we publish an issue of our on-line magazine we always include a feature vehicle. Sometimes we get a story submitted. Sometimes we see something that we keep in mind for future issues, and sometimes we stumble across something we really like. In order to come up with a feature for this issue I started looking at the past Truck Of The Month winners. I really wanted to find something different. I'm tired of seeing the same old stuff. Even with the solid axle swaps (SAS) it would be nice to see something different. I'm tired of seeing the same old D44 front axle and radius arms with a 9-inch rear and leaf spring suspension.
After some looking I came across Ted Harmon's (redneckwelder01) 1988 Bronco II that he named 'Insanity'. Ted bought the Bronco II in 1995 for $300.00 to use as a mud truck. He cut the fenders to fit 33's and wheeled the truck for 7-years. A few of his friends got involved in rockcrawling in 2002 and invited him on a trip to Tellico. Ted quickly found out that there was a big difference between mud and rockcrawling. His first problem was the lack of articulation and power. On that first trip to Tellico Ted backed in to a tree destroying the rear hatch. After returning home he cut off the back half of the top with a gas powered concrete saw. He also added a 3-inch body lift and 4.10 gears. A friend at a local body shop offered to paint the Bronco II for free. When Ted went to pick it up he found that the Bronco II had been painted pink and lavender. It was meant to be a joke, but Ted got him back by driving it that way for the next 4-years. In 2005 Ted ripped a hole in the gas tank and decided to replace it with a 33 gallon fuel cell in the 'bed' of the Bronco II.
In 2006 he destroyed the front ring gear and snapped a rear axle. It was then that project 'Insanity' began. Bitten by the rockcrawling bug, Ted started gather parts to turn the Bronco II in to the insane creation pictured at the top of this page. Ted got a 302, C4 automatic transmission and Dana 20 transfer case from a '76 early Bronco. The 302 sits on custom mounts made to mount the motor up in the frame so that only the transfer case is exposed. The transmission shifts using a B&M Z-Gate shifter. A Dana 44 from a '78 Bronco and a Ford 9-Inch from a '77 F250 were all gathered up. Ted went through the axles with new bearings and seals and installed 5.13 gears. The front axle has a locker and the rear has a mini spool. The rear 9-inch also received a disc brake conversion.
The front suspension uses '77 F250 radius arms that were extended to 50-inches. At first he used 6-inch lift coils for an early Bronco. Ted didn't like the setup and replaced the coils with Fox 2.0 Air Shox (Nitrogen filled). The front Trac-Bar is from a Jeep TJ. The rear suspension is a 4-link wishbone setup with 56-inch lower bars and 40-inch uppers. The upper bar is a basic Y style, one point on top of the pumpkin , and two points on a crossmember on the frame. Ted did some tire trading and scored a set of 17/40x15LT GroundHawgs.
The Bronco II's doors were cut down and capped off with 4-inch exhaust pipe cut in half. The tops of the rear tubs were enclosed to create storage compartments. The Interior sports a 12-point Jegs cage, racing buckets and Simpson 5-point harnesses. Tunes are provided by a Jenson double DIN Marine stereo w/ removable face, CD, cassette, a 6-disc changer and a remote that works both. Two West Marine 100w 5-1/4" sealed round speakers and two Sony 5-1/4" 60w speakers ( not water proof ).
We look forward to seeing more photos of Insanity on the rocks in Tellico. Ted's got a nice rig and claims to only have $4,500 invested in the truck including it's initial purchase price. Insanity should inspire others that they can build a capable trail/rockcrawling rig on a wallet friendly budget. Rigs like this are what can come from trading parts and shopping using resources such as Ebay.

Here's some photos:
Testing the new suspension on a RTI ramp

RTI ramp

Suspension flexing from RTI ramp

Flexing on a rock

Rear stinger and cage

Rear stinger and cage

Jegs 12-Point Cage

Cage with gusset. Notice the seat supports.

Left rear Fox Shox

View of links in rear suspension and right rear Fox Shox

Left rear upper Fox Shox mount

Right rear upper Fox Shox mount

half doors with 4-inch exhaust tubing over them (Inner)

half doors with 4-inch exhaust tubing over them (Outer)

302 Cubic Inches of American V-8

Holley Pro-Jection purchased off Ebay

Dana 20 Transfer Case

Radiator

Steering Rams

Power steering box plumbed for Hydro Assist

Transmission cooler

Transmission cooler - Mounted at the rear of the truck

Loaded on the trailer - ready to go play!

Got flex?

Yep.....pink and lavender.........