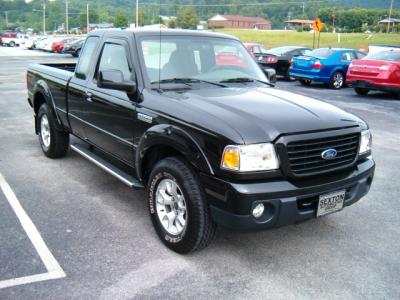 Looking to buy a used Ford Ranger? Here are some complaints / problems and recalls to be aware of.
Vibration - Reported in Rangers with 2.3 liter engines. [Few reports]
Engine revs when the clutch is pressed in on a 2.3 liter. Problem is intermittent.
2009 Ford Ranger Exterior Lighting: Tail Lights, Exterior Lighting: Brake Lights: NHTSA Campaign #11V352000
Date Announced: JULY 13, 2011 / Vehicles Affected: 26,715
Summary: Ford is recalling certain model year 2011 Ranger trucks built from January 25, 2011, through April 25, 2011 at the Twin Cities assembly plant, and service parts distributed to dealers for certain 2004 through 2011 model year Ranger trucks, 2002 through 2005 model year Excursion vehicles, and 2002 through 2007 model year F-250, F-350, F-450, and F-550 trucks for failing to comply with the requirements of Federal Motor Vehicle Safety Standard no. 108, "lamps, reflective devices, and associated equipment." The multi-function switch was shipped with a subcomponent (slider) that may experience deformation. A multi-function switch with a deformed slider may malfunction causing the turn signal, tail lights, hazard warning signal flashers and/or brake lights not to activate.
Consequence: Non-functioning lights could increase the risk of a crash.
Actions: Dealers will replace the switches free of charge. The safety recall began on August 15, 2011. Owners may contact Ford Motor Company customer relationship center at 1-866-436-7332. For detailed information & supporting documents, see the NHTSA Recall 11V352000 »
2009 Ford Ranger Suspension: Multiple Axle: NHTSA Campaign #09V040000
Date Announced: February 03, 2009 / Vehicles Affected: 11,134
Summary: Ford is recalling 11,134 MY 2009 4X2 Ranger vehicles. Some front wheel spindles were improperly manufactured creating the risk that a spindle may fracture during the normal useful life of the truck.
Consequence: If a spindle fractures, the wheel may separate from the vehicle increasing the risk of a crash.
Actions: Dealers will replace the front spindle if necessary free of charge. The recall began on February 27, 2009. Owners may contact Ford at 1-866-436-7332. For detailed information & supporting documents, see the NHTSA Recall 09V040000 »