Each month The Ranger Station holds a 'Street Truck Of The Month' contest in our forums. Members nominate vehicles for the first half of the month and then vote on them during the second half. Results are posted in the forum, and the winners are displayed on the website during the following month. The monthly winners are entitled to a 'Truck Of The Month' decal as well.

At the end of the year, the monthly winners are entered in to a 'Truck Of The Year' drawing. Again, forum members vote for the winner.

We proudly announce the '2012 Street Truck Of The Year':
Owner: beluga420
From: Quebec, Canada
Truck Of The Month: May 2012
Vehicle: 1997 Ford Ranger
Specifications:
Engine:
Holset WH1C turbo, custom twin-scroll turbo manifold
44mm wastegate
Bo-port stage 1.9 camshaft
GM LS6 valve springs with cavalier retainers
Custom made intake and ported 97 DP head, chambers opened and polished to 61cc
65 mm TB
Running 9:1 CR
Crower forged rods
Keith Black ICON forged pistons, .020 over
Spec stage 3+ clutch
TC valve cover
2.5'' IC piping from turbo to IC and 3'' from IC to TB
3'' exhaust with electronic cut-out and stock exhaust line
Hallman PRO rx boost controller
255lph walbro pump
80lbs siemens injectors
Megasquirt 2 standalone ecu
AEM Water-Meth injection
Hurst Shifter equipped
Few other goodies
Body:
12.1'' front slotted Explorer Sport Trac rotors with carbon pads
DJM 6.5 / ~8'' drop
16x10 -38 offset wheels with 225 streched Khumo/Continental tires.
8.8 explorer diff, 3.73 LS with disc brakes
Explorer rear swaybar
Pulled fenders to cover the tires
Electronic brake-lock switch for drag racing
2005+ Tail lights

This is a beautiful and fast Ford Ranger. Once again, our members have picked an amazing truck as Street Truck Of The Year.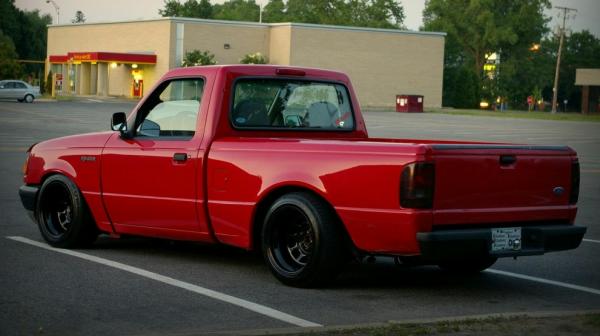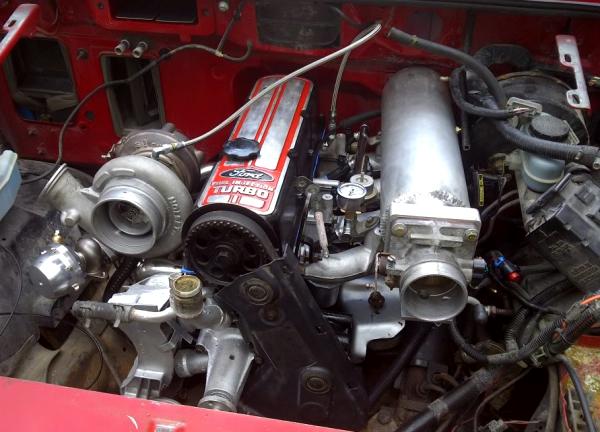 Turbo installed. Now for the plumbing.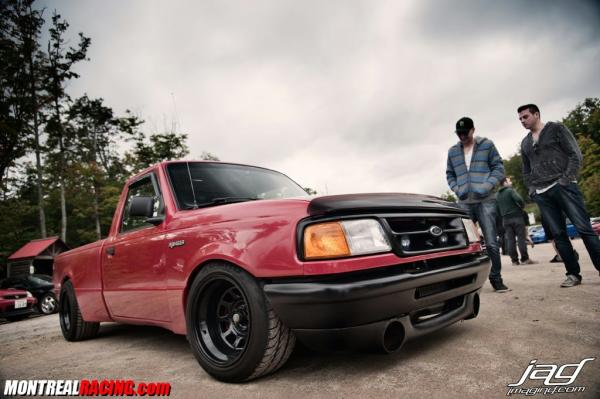 Links: