2.0 / 2.3 / 2.5 Specifications

2.0L (1983 - 1988)

Displacement
122 CID
Type
Single Over Head Cam
Bore x Stroke
3.52 x 3.13 inches
Compression Ratio
9.0:1
Fuel System
Carburetor
Fuel Pressure
5 - 7 psi
Horsepower

73hp @ 4000 RPM (1983 - 1986)
80hp @ 4200 RPM (1987 - 1988)

Torque

107 @ 2400 RPM (1983 - 1986)
106 @ 2600 RPM (1987 - 1988)

Oil Pressure
40 - 60 PSI @ 2000 RPM

Tune Up

Spark Plug
AWSF-52C
Spark Plug Gap
0.044 inch
Ignition Timing
6 degrees BTDC (1984 is 8 deg.)
Firing Order
1-3-4-2
Distributor Rotation
Clockwise

Capacities

Oil Capacity With Filter Change
5 quarts
Cooling System
6.5 quarts

Torque Specifications

Cylinder Head
Torque in 2 steps [1st (50 - 60 ft-lbs), 2nd (80 - 90 ft-lbs)]
Main Bearing Bolts
Torque in 2 steps [1st (50 - 60 ft-lbs), 2nd (80 - 90 ft-lbs)]
Rod Bearing Bolts
Torque in 2 steps [1st (25 - 30 ft-lbs), 2nd (30 - 36 ft-lbs)]
Crankshaft Pulley Bolts
100 - 120 ft-lbs
Flywheel to Crankshaft Bolts
56 - 64 ft-lbs
Intake Manifold
Torque in 2 steps [1st (5 - 7 ft-lbs), 2nd (14 - 21 ft-lbs)]
Exhaust Manifold
Torque in 2 steps [1st (5 - 7 ft-lbs), 2nd (16 - 23 ft-lbs)]

2.3L (1989 - 1997)

Displacement
140 CID
Type
Single Over Head Cam
Bore x Stroke
3.780 x 3.126 inches
Compression Ratio

9.0:1 (1983 - 1988)
9.2:1 (1990 - 1993)
9.4:1 (1994 - 1997)

Fuel System

Carburetor (1983 - 1984)
Multipot Fuel Injection (MFI) (1985 - 1997)

Fuel Pressure

5 - 7 psi (1983 - 1984)
30 - 40 psi (1985 - 1997)

Horsepower

79hp @ 3800 RPM (1983 - 1985) Manual
82hp @ 4200 RPM (1983 - 1985) Auto
90hp @ 4000 RPM (1986 - 1988)
100hp @ 4600 RPM (1989 - 1995)
112hp @ 4800 RPM (1996 - 1997)

Torque

124 @ 2200 RPM (1983 - 1985) Manual
126 @ 2200 RPM (1983 - 1985) Auto
130 @ 1800 RPM (1986 - 1988)
133 @ 2600 RPM (1989 - 1995)
135 @ 2400 RPM (1996 - 1997)

Oil Pressure
40 - 60 psi @ 2000 RPM

Tune Up

Spark Plug

AWSF-44C (1984 - 1990)
AWSR-32PP (1993 - 1995)
AWSR-32F (1996 - 1997)

Spark Plug Gap
0.044
Ignition Timing
10 degrees BTDC
Firing Order
1-3-4-2
Distributor Rotation
Clockwise

Capacities

Oil Capacity With Filter Change
5 Quarts
Cooling System (Quarts)
W/AC- 7.2 / W/O AC 6.5

Torque Specifications

Cylinder Head

Torque in 2 steps [1st (50 - 60 ft-lbs), 2nd (80 - 90 ft-lbs)] (1989 - 1995)
51 ft-lbs (1996 - 1997)

Main Bearing Bolts
Torque in 2 steps [1st (50 - 60 ft-lbs), 2nd (80 - 90 ft-lbs)]
Rod Bearing Bolts
Torque in 2 steps [1st (25 - 30 ft-lbs), 2nd (30 - 36 ft-lbs)]
Crankshaft Pulley Bolts
100 - 120 ft-lbs
Flywheel to Crankshaft Bolts
56 - 64 ft-lbs
Intake Manifold
Torque in 2 steps [1st (5 - 7 ft-lbs), 2nd (14 - 21 ft-lbs)]
Exhaust Manifold
Torque in 2 steps [1st (5 - 7 ft-lbs), 2nd (16 - 23 ft-lbs)]

2.5L MFI (1998 - 2001)

Displacement
152 CID
Type
Single Over Head Cam
Bore x Stroke
3.780 x 3.401 inches
Compression Ratio
9.1:1
Fuel System
MFI (Multiport Fuel Injection)
Fuel Pressure
56 - 72 psi
Horsepower

117hp @ 4500 RPM (1998 - 1999)
119hp @ 5000 RPM (2000 - 2001)

Torque

149ft-lbs @ 2500 RPM (1998 - 1999)
146ft-lbs. @ 3000 RPM (2000 - 2001)

Oil Pressure
40 - 60 psi @ 2000 RPM

Tune Up

Spark Plug
SP-432
Spark Plug Gap
0.044 inch
Firing Order
1-3-4-2

Capacities

Oil Capacity With Filter Change
5 Quarts
Cooling System (Quarts)
W/AC- 7.2 / W/O AC 6.5

Torque Specifications

Cylinder Head
51 ft-lbs
Main Bearing Bolts
75 - 85 ft-lbs
Rod Bearing Bolts
30 - 36 ft-lbs
Crankshaft Pulley Bolts
103 - 133 ft-lbs
Flywheel to Crankshaft Bolts
56 - 64 ft-lbs
Intake Manifold
19 - 28 ft-lbs
Exhaust Manifold
14 - 21 ft-lbs

2.3L Duratec (2002-2011)

Displacement
140 CID
Type
Dual Over Head Cam
Bore x Stroke
3.445 x 3.7010 inches
Compression Ratio
9.7:1
Fuel System
Sequential Electronic Fuel Injection — Four Port-Mounted Fuel Injectors Electronically Triggered By EEC-V Module
Fuel Pressure
60-65 psi
Horsepower

135 @ 5050 (2002)

143 @ 5250 (2003-2011)

Torque

153 @ 3750 (2002)

154 @ 3750 (2003-2011)

Oil Pressure
55 psi @ 6000 rpm

Tune Up

Spark Plug
SP-439
Spark Plug Gap
0.044 inch
Firing Order
1-3-4-2

Capacities

Oil Capacity With Filter Change
4 Quarts
Cooling System (Quarts)
W/AC- 7.2 / W/O AC 6.5

Torque Specifications

Cylinder Head
Stage 1: 44 in-lbs

Stage 2: 132 in -lbs

Stage 3: 33 ft-lbs

Stage 4: Rotate 90 degrees (1/4 turn)

Stage 5: Angle tighten 90 degrees

Main Caps
32 ft-lbs and then rotate 180 degrees
Connecting Rod Caps
21 ft-lbs and then rotate 90 degrees
Flywheel to Crankshaft Bolts
Stage 1: 37 ft-lbs

Stage 2: 59 ft-lbs

Stage 3: 83 ft-lbs

Intake Manifold
156 in-lbs
Exhaust Manifold
40 ft-lbs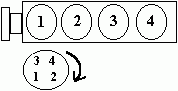 2.0L and 1983 - 1988 2.3L Engines
Firing Order: 1-3-4-2
Distributor Rotation: Clockwise
1989–1997 2.3L / 2002-2011 2.3L Duratec / 1998-2001 2.5L Engines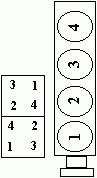 Firing Order: 1–3–4–2
Distributorless Ignition
Differences between major engine parts are as follows:
Blocks:
The 2.0 is an underbored 2.3. With the exception of the bore, the blocks are identical to all 2.3's
1975 - 1988 2.3's are interchangeable
1989 - 1994 2.3's are the same as the 1983 - 1988 2.3's but have a smaller main journal saddle. The oil pan seal surface was changed in 1987 to eliminate the (4) piece seal and holes were added in the front to bolt on the DIS's crank trigger assembly.
1995 - 2001's are similar to the 1989 - 1995's but a Cam Position Sensor was added behind the aux sprocket. The hole for the distributor was eliminated and the oil pump was moved in place of the aux. shaft itself.
Turbo blocks are identical to the 1983 - 1988 Ranger blocks but have an additional boss with a hole threaded in the passenger side about ½ way back that provides a place to drain the lubricating oil back into the engine from the turbo.
Cranks:
2.0 and early 2.3 cranks are identical.
Late 2.3 cranks have smaller main journals.
2.5 cranks are identical to 2.3's except they have a longer stroke.
Rods:
2.0 and 2.3 (including turbo) rods are identical up through at least 1994. In fact they still have the original D4 ('74) casting number on them.
Pistons:
The 2.0 pistons are unique and don't interchange.
The 2.3 pistons are all the same excluding the turbo versions which were forged. Low compression (8.0:1) in the 1983 - 1888's and high compression (9.0:1) in the 1979 - 1981's.
The 2.5 pistons are similar to the 2.3's but have a different wrist pin height.
Heads:
All 2.0/2.3/2.5 heads will physically bolt in place of each other. They all have similar exhaust port shape and placement. All cams are interchangeable as long as they are used with the proper followers. Later model (1995 and newer) roller cam followers cannot be easily swapped onto an older head as the valve stem size was reduced in the newer heads and matching slot in the follower was reduced. Early 2.0 and 2.3 heads have the same small round intake ports spaced evenly apart. They differ from each other in their valve sizes though.
Head Variations:
There are several variations on the 2.3 heads though they break down into (4) distinct types:
1) Passenger car oval port heads - 1974 - 1980 Mustang, Pinto, Fairmont, Bobcat, etc.
2) Passenger car D-port head - 1981 - 1995? T-bird, Mustang, Etc.
3) Truck round port - 1983 - 1985 Ranger
4) Truck D-port - 1989 - 2001 Ranger. The 1989 - 1994's and 1995 - 2001's have different combustion chambers and ports. It is thought that the newer head is better designed.
Part Numbers:
The following parts and information are from the Federal Mogul website. The part numbers are theirs and are Sealed Power numbers. Those in parenthesis are: FP = Fel-Pro, FM = Federal Mogul
Cylinder Head

Part
Years Covered
Part Number
Head Bolts
83-01
ES72137 (FP)
Exhaust Valve (1.500" head, .3414" stem dia, 4.792" OAL)
83-94
V3943
Exhaust Valve (1.500" head, .2740" stem dia, 4.8070" OAL)
95-01
V4553
Intake Valve (1.735" head, .3419" stem dia, 4.787" OAL)
83-94
V2170
Intake Valve (1.735" head, .2750" stem dia, 4.787" OAL)
95-01
V4488
Valve Guide (.3440 ID, 2.1880" OAL-spiral reamed & flg)
83-94
VG1372
Valve Guide (Threaded, .2765" ID, 1.9300" OAL)
95-97
VG1389T
Valve Spring (1.9800" free height w/ damper)
83-94
VS1459
Valve Spring (2.0197" free height)
95-01
VS1647
Valve Keeper/Lock
83-94
VK205
Valve Keeper/Lock (Hard)
83-94
VK205R
Valve Keeper/Lock
95-01
VK287
Valve Spring Insert [(shims) (A=.060" B=.030" C=.015")
83-94
259-102A or B or C

Engine

Part
Years Covered
Part Number
Connecting Rods (Forging #D42E-AA)
1974 - 1997
R25BJ (FM)
Pistons - 2.3L (2-2.00mm/1-4.76mm rings, Comp Dist:1.578". Pin Dia: .9122"
8.7:1 Comp Ratio, Flat Head- w/2 Valve Reliefs)
1977 - 1991
H435P
Pistons - 2.3L (2-1.5mm/1-4.00mm rings, Comp Dist: 1.575", Pin Dia: .9122"
Flat Head- w/2 Valve Reliefs)
1983 - 1994
H537P
Pistons - 2.3L (2-1.5mm/1-4.00mm rings, Comp Dist: 1.578", Pin Dia: .9122"
8.7:1 Comp Ratio, Flat Head- w/2 Valve Reliefs)
1982 - 1989
495P
Pistons - 2.3? (2-1.5mm/1-3.00mm rings, Comp Dist: 1.335", Pin Dia: .9122"
Flat Head- w/2 Valve Reliefs)
1995 - 1997
H676P
Oil Pump (4/8/85 and older) (Not For Use w/ Cast Aluminum Oil Pan)
1980 - 1985
224-41160
Oil Pump High Volume (Not For Use w/ Cast Aluminum Oil Pan)
1980 - 1995
224-41160V
Oil Pump (4/9/85 and newer)
1986 - 1994
224-41127
Oil Pump Shaft
1980 - 1994
224-61160
Oil pump screen
1977 - 1985
224-12160
Oil pump screen
1986 - 1994
224-13160
Performance Parts:
If you're looking for performance parts, you should check out these sites:
They have been a dominating force in four-cylinder Ford performance products for over thirty years. They produce engines and products that have powered everything from off-road trucks and midgets to ministocks and hydro-planes. Along the way, they have helped customers achieve countless wins and championships. They specialize in single overhead cam 2.3 and 2.0 liter Ford engines. They provide hundreds of performance products, including complete engines, short blocks, Aluminum cylinder heads, pulley kits, oil pans, carburetors, manifolds, crankshafts, cams, distributors and almost everything imaginable.
They have a selection of cams for most engines found in the Ford Ranger & Bronco vehicles including the 2.0 and 2.3.
Race Engineering specializes in racing and high-performance internal engine parts. They specialize in forged pistons, forged connecting rods, billet connecting rods, crankshafts, piston rings, gaskets, MLS gaskets, race bearings, camshafts, valves and valve train components. Balanced rotating assemblies are carefully engineered for most all engines. We have developed a series of assemblies (including strokers) for 4 cylinder Ford motors (2.3, 2.5 & stroker Ford 4 cylinders for oval track/mini stock).
Racer Walsh carries numerous 2.0 and 2.3 parts.
Check them out for a variety of Ford 4-cylinder parts.
Kurtz Kustomz carries the True-Rev Max Induction kit which allows your engine to breathe more air by eliminating all of the power robbing restrictions associated with the stock system, resulting in more horsepower, better low end torque, crisp throttle response, and overall increased efficiency. This is a complete bolt-on kit that replaces your stock airbox assembly.
Speedway Motors carries Ford 4-cylinder parts.
Modifications:
Air Muffler:
Start off with an improved air intake to let the engine breath better. Below left you can see the Air Muffler and the baffle. The air muffler (on the left) goes between the air cleaner and the throttle body. The baffle to the right of it comes off the front of the air cleaner inside the body of your Ranger above the wheel well. As you can see in the picture below right, the air muffler was replaced with a piece of stainless but you can use PVC pipe. This will allow more air flow into your motor, increase HP, and make your motor a little bit louder. Your air cleaner is in two (2) parts; air cleaner canister, and mass air flow sensor. Open your air cleaner and remove the air filter, then unbolt the can in which the filter was in, when you pull the can off, the baffle will be attached to it. Remove the baffle, and reinstall the air cleaner. This will add more air flow, HP, and sound to your Ranger.
K&N offers an AirCharger replacement air intake for 1995+ 2.3 Rangers
Port your upper and lower intake. The intakes don't line up diameter to diameter. Porting opens this up and allows better flow. Knife edge the intake side of the throttle body to remove the front lip. You can use a Dremel tool to grind, sand and buff this area to obtain a smooth airflow in to the engine. You can also mill down the butterfly to blend in to the shaft for a smoother air flow.
For details on how to port your heads, click HERE
Accel - Makes a coil pack for 1998 - 1999 Ford 4-cylinder. For more information click HERE.
MSD - Manufactures a DIS ignition system along with wiring harnesses. Find their parts at Summit Racing.
JetChip - Makes a module to reprogram the engines computer. Click HERE
Pacesetter offers headers for the 2.3 HERE. Dynomax and Gibson make cat-back exhaust systems for the Ranger.
You can swap in a turbocharged 4-cylinder instead of trying to adapt a turbo to your engine. For info on turbo engines see Turbos. For info on the swap look HERE.
If our looking for more low end torque, upgrade your rear gears to a lower (numerically higher) ratio.
Flex-A-Lite makes a replacement fan for the Ranger so you can replace your clutch driven fan to reduce drag on the engine.
'Odysseus' - I recently had some trouble with the truck bucking sporadically, or when it rained. The EGR valve was sticking. I removed the hose that comes out from the fuel injector to the valve and plugged it with an ink pen. Cleared it right up. I actually noticed it has a little more power too. Just trying to save you guys some trouble.