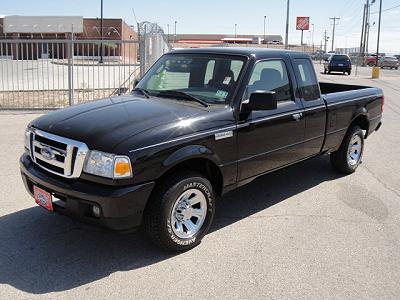 Looking to buy a used Ford Ranger? Here are some complaints / problems and recalls to be aware of.
Engine valve cover cracked.
Engine misfires on several cylinders and displays the check engine light. Problem is from faulty cylinder heads. See TSB 05-26-3 [Several reports]
Truck accelerates when braking.
Windshield wipers stop working, or work intermittently. See recall below.
Transmission:
Clutch failure at low miles.
Miscellaneous Electrical:
Engine dies. Dealer may blame the fuel pump. Problem is inertia switch. The replacement switch moves the switch from the passenger floor area to the side kick panel. [Several reports]
2006 Ford Ranger Exterior Lighting: Tail Lights, Exterior Lighting: Brake Lights: NHTSA Campaign #11V352000
Date Announced: JULY 13, 2011 / Vehicles Affected: 26,715
Summary: Ford is recalling certain model year 2011 Ranger trucks built from January 25, 2011, through April 25, 2011 at the Twin Cities assembly plant, and service parts distributed to dealers for certain 2004 through 2011 model year Ranger trucks, 2002 through 2005 model year Excursion vehicles, and 2002 through 2007 model year F-250, F-350, F-450, and F-550 trucks for failing to comply with the requirements of Federal Motor Vehicle Safety Standard no. 108, "lamps, reflective devices, and associated equipment." The multi-function switch was shipped with a subcomponent (slider) that may experience deformation. A multi-function switch with a deformed slider may malfunction causing the turn signal, tail lights, hazard warning signal flashers and/or brake lights not to activate.
Consequence: Non-functioning lights could increase the risk of a crash.
Actions: Dealers will replace the switches free of charge. The safety recall began on August 15, 2011. Owners may contact Ford Motor Company customer relationship center at 1-866-436-7332. For detailed information & supporting documents, see the NHTSA Recall 11V352000 »
2006 Ford Ranger VISIBILITY: WINDSHIELD WIPER/WASHER: MOTOR NHTSA Campaign #05V520000
Date Announced: NOVEMBER 09, 2005 / Vehicles Affected: 199,942
Summary: On certain trucks, passenger cars and sport utility vehicles, the windshield wiper motor may have been produced without grease being applied to the output shaft gear.
Consequence: After a period of continuous use on the high speed setting, lack of grease on the output shaft gear may cause the gear to distort or fracture during operation resulting in a loss of wiper function. Inoperative wipers under inclement weather conditions could cause a crash due to impaired visibility.
Actions: Dealers will inspect the wiper motor for the presence of grease and grease the wiper motor gears if necessary. The recall began on November 22, 2005. Owners may contact Ford at 1-800-392-3673 or Lincoln/Mercury at 1-800-521-4140. For detailed information & supporting documents, see the NHTSA Recall 05V520000 »