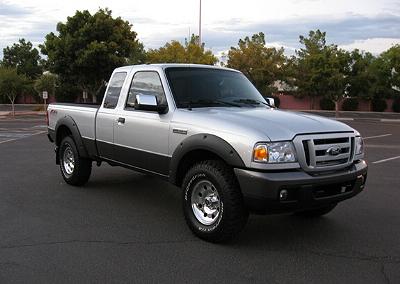 Looking to buy a used Ford Ranger? Here are some complaints / problems and recalls to be aware of.
Clunk in steering. Dealer fixes it by replacing tie-rod ends. There is a TSB-19844 telling the dealer how to correct it. [Numerous reports]
Transmission:
Slams in to gear on take off.
Transmission shakes and then vehicle jumps. [Few reports]
Automatic transmission lost 3rd, 4th, and 5th gear after 18,000 miles
Automatic transmission slams when down shifting.
Air bag did not deploy during crash. [Numerous reports]
Miscellaneous Electrical:
Anti-theft light blinks and shuts the truck off. Problem appears to be from the computer getting wet.
Anti-theft light blinks and won't let the truck start. Problem appears to be from the computer getting wet.
Tachometer, speedometer, and odometer cluster quit working, check engine light comes on but engine remains running. Problem appears to be from a plug under the dashboard by the pedals that gets knocked loose.
Flashing dash lights and erratic gauges. Problem appears to be from the computer (ECM) getting wet.
Fire started in the passenger side near where the airbag was. Air bag blew as a result. Passenger kick panel also burned.
2007 Ford Ranger Exterior Lighting: Tail Lights, Exterior Lighting: Brake Lights: NHTSA Campaign #11V352000
Date Announced: JULY 13, 2011 / Vehicles Affected: 26,715
Summary: Ford is recalling certain model year 2011 Ranger trucks built from January 25, 2011, through April 25, 2011 at the Twin Cities assembly plant, and service parts distributed to dealers for certain 2004 through 2011 model year Ranger trucks, 2002 through 2005 model year Excursion vehicles, and 2002 through 2007 model year F-250, F-350, F-450, and F-550 trucks for failing to comply with the requirements of Federal Motor Vehicle Safety Standard no. 108, "lamps, reflective devices, and associated equipment." The multi-function switch was shipped with a subcomponent (slider) that may experience deformation. A multi-function switch with a deformed slider may malfunction causing the turn signal, tail lights, hazard warning signal flashers and/or brake lights not to activate.
Consequence: Non-functioning lights could increase the risk of a crash.
Actions: Dealers will replace the switches free of charge. The safety recall began on August 15, 2011. Owners may contact Ford Motor Company customer relationship center at 1-866-436-7332. For detailed information & supporting documents, see the NHTSA Recall 11V352000 »